Making The Walls Transparent
Oregon Style
Once this site is up and running you will find inside these pages information for friends, and family members of inmates incarcerated in Oregon's prison system.

I hope that I can give those out there both the hope and information that will provide them with the knowledge to understand the Oregon prison system of today. So that they can help their loved ones survive the system within the walls of the prisons of this state. And to help them better understand that they are not alone while waiting for those they love to come home.
MTWT-Oregon is a NON-PROFIT Prison Advocacy Organization helping with the needs of Prisoners and their Families.

As of today, February 15, 2005, what you see on this site are the basic facts that the Oregon DOC publicizes on their website. You who are close to the system; prisoners, families, ex-and current DOC employees, will write the rest.
Also Introducing
MTWT CONNECTICUT STYLE
Oregon Department of Correction's Prisons
*In any of our work, "cops" refers to irresponsible and/or immoral police officers, just as "guard" refers to the same breed of quot;Correctional" Officers. I have the utmost respect for people who do these difficult jobs in a professional manner, always remembering that they are dealing with human beings.
In fact MTWT's

Gold Star Award will be given throughout the site for employees of the department who show professionalism above the norm to those who nominate them.
Governor of the State of Oregon
Ted Kulongoski
Governor of Oregon

160 State Capitol
900 Court Street
Salem, Oregon 97301-4047
PHONE
Governorís Citizensí Representative Message Line
503.378.4582
FAX
503.378.6827

Governor's Site

Note: The State of Oregon does not have a LT Governor


Secretary of State
Bill Bradbury
Director of Corrections
Max Williams
Oregon State Facilities
Coffee Creek Correctional
24499 SW Grahams Ferry Road
PO Box 9000
Wilsonville, OR 97070
Supt. (503) 570-6412
Info. (503) 570-6400
FAX (503) 570-6417
Columbia River Correctional 9111 NE Sunderland Avenue
Portland, Oregon 97211-1708 Information: (503) 280-6646
FAX: (503) 280-6012

Eastern Oregon Correctional 2500 Westgate
Pendleton, Oregon 97801-9699 Superintendent's Office: (541) 278-3602
Information: (541) 276-0700
FAX: (541) 278-1841
Mill Creek Correctional 5465 Turner Road
Salem, Oregon 97301-9400 Superintendent's Office: (503) 378-5808 ext 231
Information: (503) 378-2600
FAX: (503) 373-7697
Oregon State Correctional 3405 Deer Park Drive SE
Salem, Oregon 97310-9385 Superintendent: (503) 373-0105
Information: (503) 373-0100
FAX: (503) 378-8919
Powder River Correctional 3600 - 13th Street
Baker City, Oregon 97814-1346 Superintendent's Office: (541) 523-9877
Information: (541) 523-6680
FAX: (541) 523-6678
Santiam Correctional 4005 Aumsville Hwy SE
Salem, Oregon 97301-9112 Superintendent's Office: (503) 378-5808 Information: (503) 378-2144
FAX: (503) 378-8235
Shutter Creek Correctional 95200 Shutters Landing Lane
North Bend, Oregon 97459-0303 Information: (541) 756-6666
FAX: (541) 756-6888
South Fork Forest Camp 48300 Wilson River Hwy
Tillamook, OR 97141-9799 Information: (503) 842-2811
Fax: (503) 842-7943
Snake River Correctional 777 Stanton Blvd
Ontario, Oregon 97914-0595 Voice Mail (541)881-5000 Fax: (541)881-5460
Two Rivers Correctional 82911 Beach Access Rd
Umatilla, OR 97882 Information: (541) 922-2001
FAX: (541) 922-2011
Warner Creek Correctional In Lakeview will open in September Superintendent will be Chuck Seeley
Sheridan, Oregon 97378-9601
503-843-4442
Fax: 503-843-3408
Security Level: Medium/Administrative/Male (adjacent Minimum/Male camp)
Facility Code: SHE
IS THERE A MINIMUM STANDARD OF CARE FOR
PRISONERS IN AMERICA TODAY?
United Nations Standard Minimum Rulesfor the Treatment of Prisoners
Adopted August 30, 1955, by the First United Nations Congress on the
Prevention of Crime and the Treatment of Offenders, U.N. Doc.
A/CONF/611, annex I, E.S.C. res. 663C, 24 U.N. ESCOR Supp. (No. 1) at
11, U.N. Doc. E/3048 (1957), amended E.S.C. res. 2076, 62 U.N. ESCOR
Supp. (No. 1) at 35, U.N. Doc. E/5988 (1977).
~ * ~ * ~ * ~ * ~ * ~ * ~ * ~ * ~ * ~ * ~ * ~ * ~ * ~ * ~ * ~ * ~
Suggested Reading
on the drug war, the prisons, the medicine, and the betrayers.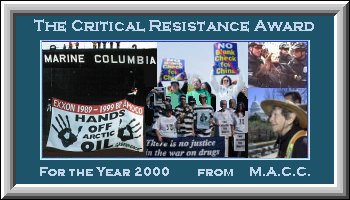 AWARDED TO
KAY LEE'S JOURNEY FOR JUSTICE
Sponsored project
MAKING THE WALLS TRANSPARENT For outstanding contributions in:
Innovation of presentation
Unfailing Perseverance
Courageous dedication to cause
MTWT's Vision For America:
Gentle in Nature; Bold in its Visions; Passionate in Spirit; and Enlightened in its Judgment.

Our goal is to make prisons places of great healing by encouraging professionalism from those in authority and rehabilitation for the citizens they keep so that society will be safer when prisoners have finished their time and go home.
Ill-begotten power in the hands of irresponsible people
is far more dangerous than most people locked in American prisons today.
When we stand against the destruction that immoral leaders and bad policies cause, we stand to defend the same principles that every war our nation has ever been involved in at least pretended to defend! The concept of the energy called God demands that we stand against all evil things. Our Spirits tell us that we do not stand alone!
With Great Love, Oregon Director Deborah Arriaga, CT Director Joanna Ferris, FL Director Kay Lee
Visualizing Professionalism and Spiritual Enlightenment in those who hold Positions of Authority
DISCLAIMER: Although I cannot guarantee the truth of each incident in these pages, I do guarantee that the big picture presented here is as accurate as I can possibly present it. Although the information contained herein does mainly come from prisoners, their accounts are backed up by copies of grievances, medical records, family testimony, lawyer contacts, witness statements, samples of water, food and burned skin, and at times the DOC's own personnel, some of whom have remained in contact to guide me and validate whatever parts of the picture they could. These accounts belong to others. Therefore I can claim no ownership or credit, nor can I accept any responsibility for the contents. I am simply the recorder who listens when no one else will and an amplifier for the voiceless.

For shame that they should so badly need MTWT
Deborah Arriaga
PO BOX 296
South Beach, Or. 97366
debi1116@hotmail.com

This page was updated March
25
, 2005